Visions of Our City:Istanbul
Together we are Istanbul's multicultural connectors
Its location as a merging point between Asia and Europe and a key trading route on the Silk Road has always given Istanbul its allure, importance and clout. But Istanbul is now transforming to take on a greater role in Turkey's rising economy.
As a G20 nation, Turkey is expected to be among the fastest growing countries in the Organisation for Economic Co-operation and Development (OECD) and could expand at around 3% annually over the next 34 years, emerging as the world's 12th largest economy by 2030 in purchasing power parity terms, according to PricewaterhouseCoopers.
Istanbul will likely be at the heart of this blistering growth, as citizens from across the country move to the city. In 1965, only 6.5% of Turkey's population lived in Istanbul, but that number has grown to 18.1% and is projected to exceed 22% by 2035 taking the city's total population to 20 million.
As much as 45% of the residents in the city are under the age of 30 and are increasingly becoming digital savvy and brand conscious with aspirations of being part of the global technology-led knowledge economy.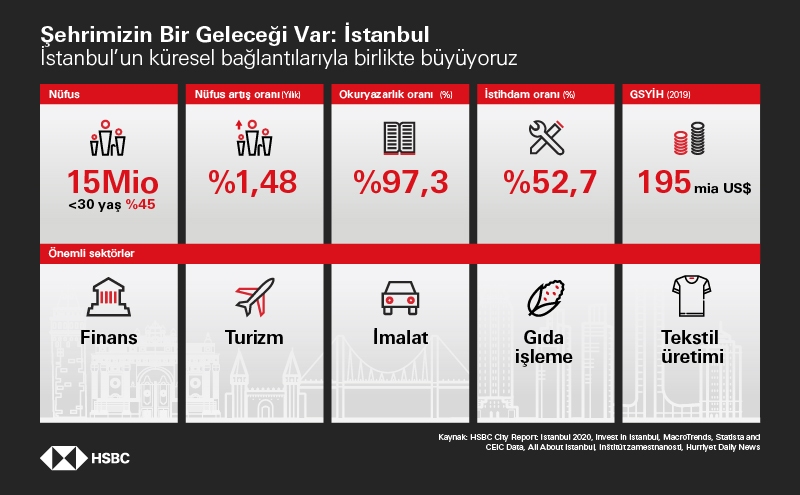 Download full report (PDF, 1.57MB)
Trading Point
The city has capitalised on its location at the crossroads of two continents to become a major intercontinental trading, retail and logistics hub. Indeed, the sector accounts for 15% of the city's GDP.
The city's ambitious plans for the future rests on two pillars: becoming a major gateway, and a leading knowledge hub growth.
In this direction, projects that support the city to reach its potential in many areas, especially in trade and tourism, continue to be carried out. Istanbul Airport's US$12 billion expansion will make it the world's largest airport when it becomes fully complete by 2025, with the capacity to handle 200 million passengers and six million tonnes of cargo per year. The project will reinforce Istanbul as one of the world's premier tourism destinations.
The gateway will include the US$1.7 billion Galataport, a new cruise port and a number of bridges and tunnels that will connect the sprawling cities that will connect it to Asia and Europe.
Boosting Istanbul's credentials as a logistics hub, the city is also investing in bolstering its manufacturing base, including electronics and automotive parts, and transitioning to higher value products such as aerospace.
Knowledge Hub
The city is building a university ecosystem and leveraging its educational hub to nurture the domestic workforce, attract global talent and create an ecosystem where innovation, technology and research and development can thrive.
The city has more than 650,000 students enrolled in 56 public and private universities, of which five are globally recognised.
The competition for global talent, however, is fierce. Apart from many European cities that are seen as seats of culture, education and innovation, Istanbul is also competing with Middle East, North Africa and Turkey (MENAT) peers such as Dubai, Doha, Riyadh and Cairo for talent and venture capital interest.
The Turkish authorities will need to continue to develop a more responsive regulatory regime and offer higher incentives to attract global talent.
In addition, Istanbul ranks 16th in the top 100 emerging innovation ecosystems, performing well for access to funding and VC activity as well as market reach. With around 2,500 recognised tech-enabled firms, the city ranks in the top 50 globally for the number of firms. Istanbul has also been emerging as a regional hub for digital gaming. It has been one of the fastest-growing e-sports markets and has recently opened the largest e-sports arena in Europe and Middle East, bringing together players and content creators. Furthermore, Istanbul is home to mobile game company Peak Games, Turkey's first unicorn.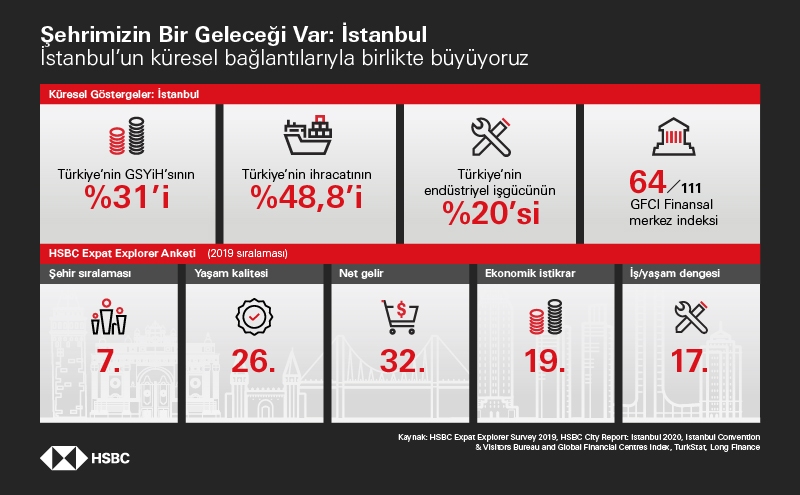 Download full report (PDF, 1.57MB)
Sustainable Development
Istanbul's growth plans are underpinning by a strong focus on sustainable development to ensure its precious tourism and heritage is preserved.
"A sustainable future will depend on the sustainable economies of cities that play a strategic role for activities in finance, commerce, industry and multiple other sectors. Istanbul is a city that has not only Turkey's but one of the world's largest and most complex economies. There is a significant opportunity in positioning Istanbul as an engine of growth together with its businesses that play a role in a sustainable global economy. As a facilitator to draw investments to Turkey, HSBC Turkey will continue to promote the potential of Istanbul in international platforms and support our customers by introducing different financing models to be used in planned investments, adding value to Turkey's economy with the synergy we create with our customers", said Selim Kervancı, HSBC Turkey CEO.
Istanbul: Top Tourism Destination
Istanbul's tourism industry boosts unique history, heritage and monuments that make it a special destination to visit.
Before COVID-19 disrupted global tourism, Istanbul saw the 8th highest number of visitors globally, and was ranked 15th for international visitor overnight spending. The city has become a clear leader as a global tourist and retail destination, with a third of top international retailers setting up shop here. It also ranks second among leading global cities for the number of retail shops, only behind Paris. The World Travel and Tourism Council's Global Economic Impacts & Trends 2020 report identified Antalya and Istanbul as the two fastest-growing city destinations in the world in a survey of 73 global cities.
While leisure tourism remains a booming industry, the city is also emerging as a MICE (meetings, incentive, conferences and events) location for business travellers, with 55 major international meetings hosted in 2019, compared to 33 the year before.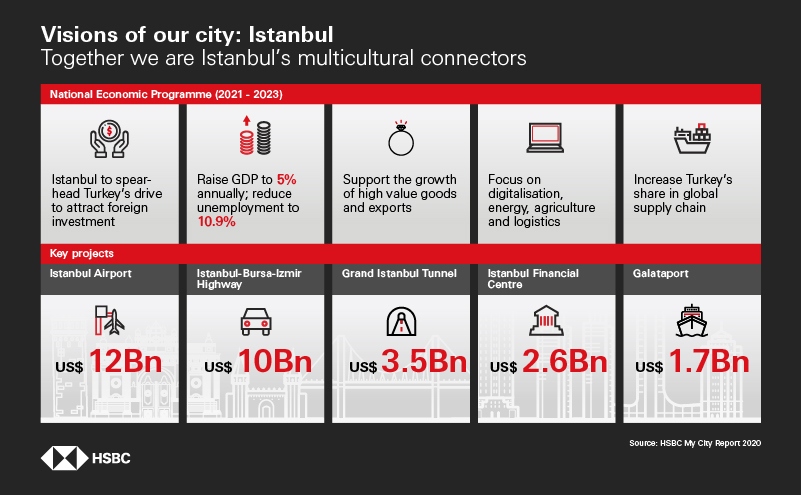 Download full report (PDF, 1.57MB)
Istanbul's focus on diversifying corridors and new sectors, to deliver domestically and internationally, whilst expanding on its core strengths will ensure it remains revitalised and globally relevant for decades to come.
The Artist – Max on Duty
Known as "Max on Duty" on the streets of Istanbul, the artist engages in art forms such as graffiti, mural art and illustrations. Starting his fine arts education in 2008 in Antalya, where he was born in 1993, he has been furthering his studies and artwork in Istanbul since 2012.
He got into graffiti and mural art in 2014 and has produced numerous pieces in and out of the country since then. In his works, the artist redefines the object and creates an alternative perception of the form by stylizing its colour and shape.
Continuing his education in Mimar Sinan University of Fine Arts, Department of Industrial Design currently, the artist takes inspiration from mechanical and organic forms, the behavioural culture and actions of individuals and society.
This information is not intended as an offer or solicitation of the purchase or sale of any instrument referred to herein abroad or within the country. Should you wish to undertake transactions in any instrument, please refer to your local sales contact at HSBC. There may be cross border restrictions to undertake any of the products or services contained within the information here.
The information provided here is by no means to analyse these restrictions and make a recommendation and is purely for informative purposes. All kinds of transactions shall be subject to business conduct of HSBC Bank A.Ş. and compliance to local legislation. No information in this document is provided by HSBC for the purpose of offering, cross border marketing and sale by any means of any banking services outside of Republic of Turkey.